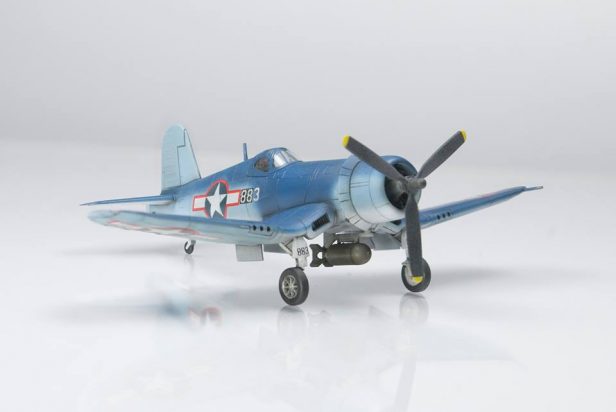 AFV Club has released their highly customizable new tool F4U Corsair model kit in 1/144 scale (AR14406).
Each kit reportedly contains parts for two F4Us with options to build F4U-1/F4U-1A/F4U-1C/F4U-1D variants. Two types of movable propellers are said to be included, as are two types of fuel tanks and a variety of armament options including machine guns or cannon, as well as 1,000 lb / 250 lb bombs and HVAR projectiles.
Additional features reportedly include cowl flaps that can be modeled open or closed, landing gear that can be modeled in extended or retracted positions and marking options for four machines, including F4U-1 of VF-17, USS Bunker Hill, July 1943; Mk.I [F4U-1] of 1834 Squadron, Fleet Air Arm, Quonset Point, July 1943; F4U-1A of VMF-214, Solomon Islands, December 1943; and F4U-1A of 18 Squadron, Royal New Zealand Air Force, Guadalcanal, 1945.
Product Page ($18.95 Additional Information via AeroScale)