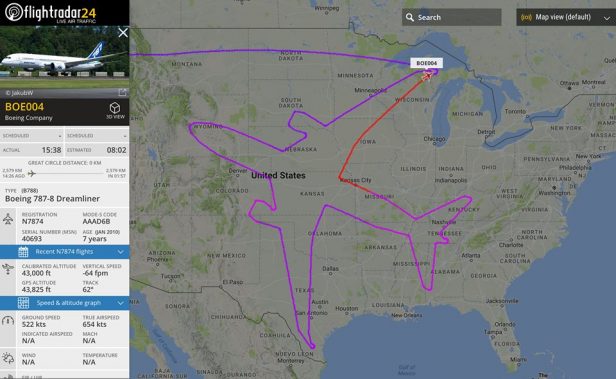 While performing ETOPS testing on the new Rolls Royce Trent 1000 TEN engine on Wednesday, Boeing 787-800 Dreamliner N7874 departed Seattle and proceeded on an 18-hour flight over the United States, drawing a massive outline of itself in the process.
The journey was captured by Flightradar24, revealing an aerial masterpiece that covered 22 states, including a wingspan stretching from the upper peninsula of Michigan to southern Texas and a fuselage that began in Wyoming and ended in Tennessee.
According to Boeing spokesman Doug Adler, Jr., the test team decided to be creative rather than flying in random patterns, and also ensured that the outline's nose was pointing at the Puget Sound region, home to Boeing Commercial Airplanes.
Click below to check out a timelapse video of the flight.
Playback of the journey can also be found here.
(Flightradar24 via Fox News)